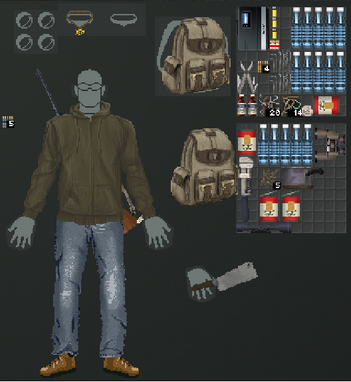 The inventory system of NEO Scavenger is grid-based. This means that objects take up space in addition to their weight. Items may be rotated (via mouse scroll or arrow buttons) to fit better in one's inventory. As the game progresses, the player may be able to pick up bags, backpacks, and a
vehicle
(such as a shopping cart) to increase their storage space beyond what can be held in two hands.
Inventory Slots
Edit
One face item may be worn:
Tunic/VestEdit
One tunic/vest may be worn:
One overcoat-type garment may be worn:
Three shirts may be stacked and worn on the torso (includes shirt-like items):
Brown T-Shirt
Grayling Community College T-Shirt
Hospital Gown
Black Shirt
Banana T-Shirt
Diffrent Colored Allegan Fairgrounds T-Shirts
Green Corn-a-Cola T-Shirt


Two gloves may be worn (one on each hand):
One pair of pants may be worn:
Two boots/shoes may be worn (one on each foot)
One necklace and two strapped optical instruments (of different types) can be worn:
Two bracelets may be worn (one on each wrist):
Weapon and EquipmentEdit
Each hand can hold items (up to 1 stack), weapons, or containers.


Right ShoulderEdit
One weapon (requires a shoulder strap):
Left ShoulderEdit
The vehicle slot can be found on a separate Vehicle screen. Only one vehicle can be in use at any given time.